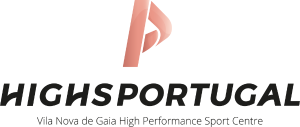 HIGH PERFORMANCE SPORTS CENTRE IN VILA NOVA DE GAIA
PRESENTING THE HIGH PERFORMANCE SPORTS CENTRE IN VILA NOVA DE GAIA
The High Performance Sports Centre in Vila Nova de Gaia was inaugurated in 2013 and is part of the Municipal Park of Lavandeira of the Portuguese Network of High Performance Sports Centres/HIGHSPORTUGAL. It originated in the remodelling and renovation process of the existing pavilion. The construction involved a pavilion for table tennis, another for taekwondo, a multipurpose sports pavilion and an accommodation unit for athletes, teams and staff.
The HPSC is located in an urban area heavily served by road infrastructures and urban services. In terms of mobility network, this area is served by the metro line, several public transportation operators and a dense road network.
FACILITIES AND EQUIPMENTS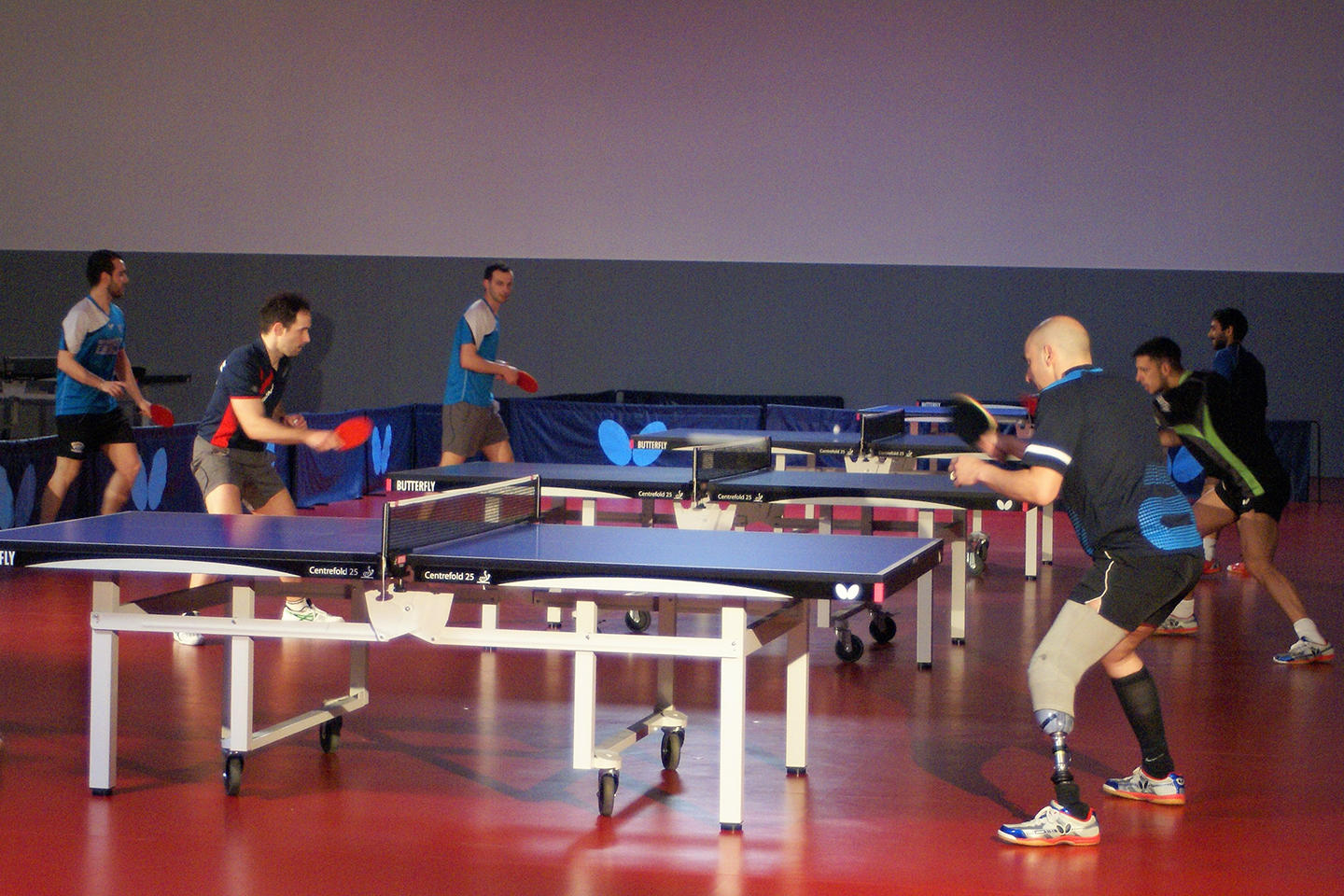 TECHNICAL AREA FOR TABLE TENNIS
The Pavilion for Table Tennis has a playing space for nine tables under international competition requirements, two locker rooms with capacity between 15 and 20 athletes, two other units for technicians, a medical office and a first aid room, a training room, with capacity for 20 trainees and a small warm-up and training gym with the dimensions required by the International Federation.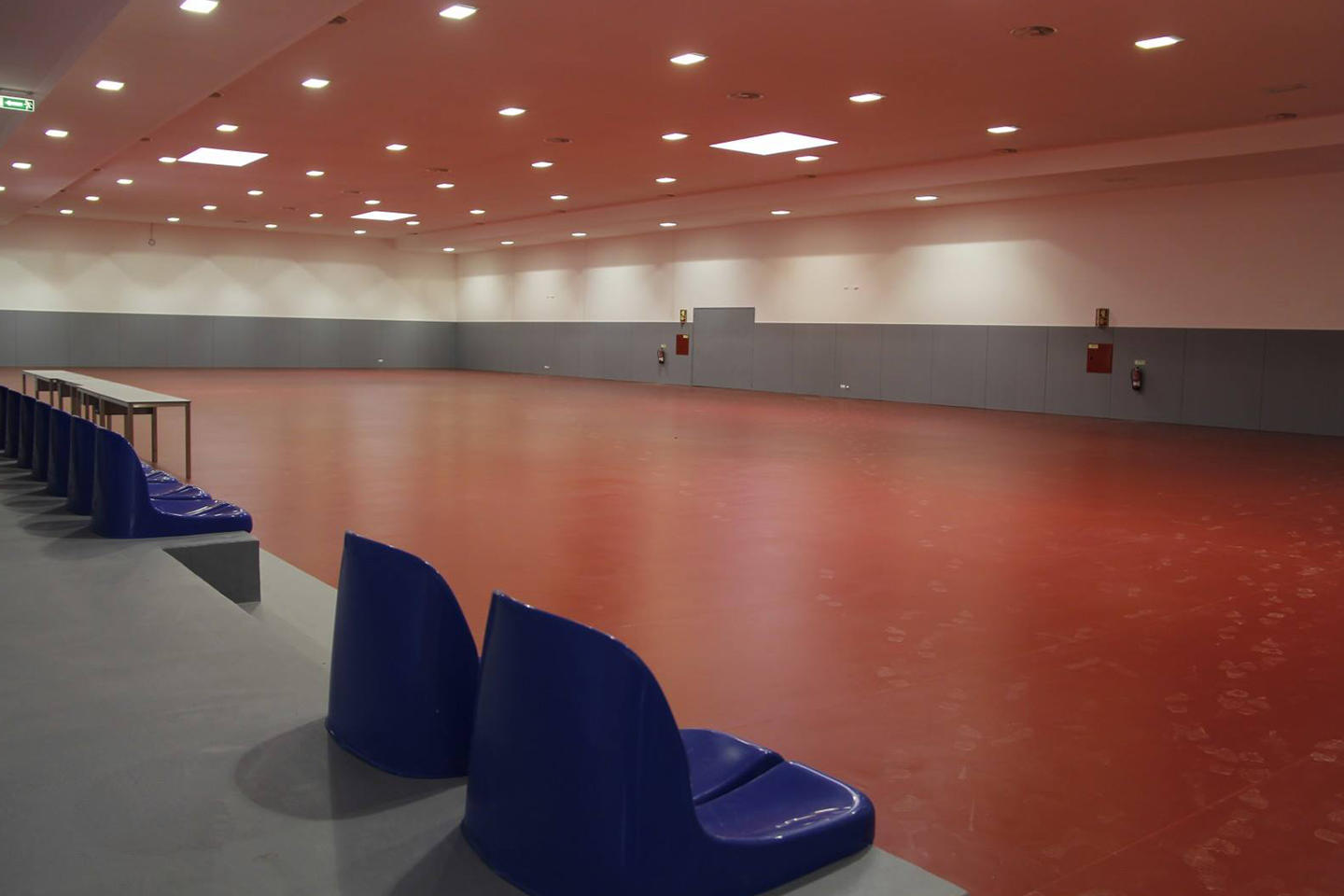 TECHNICAL AREA FOR TAEKWONDO
Another facility is a Pavilion for Taekwondo, which is a simple structure on a single floor divided into 3 separate rooms with space and equipment respecting internationally approved measures. The pavilion is also equipped with two locker rooms for about 30 athletes and three offices for technicians.
This building is adjacent to the multipurpose Pavilion, thus offering direct communication to it; access is made through the atrium, as an autonomous unit.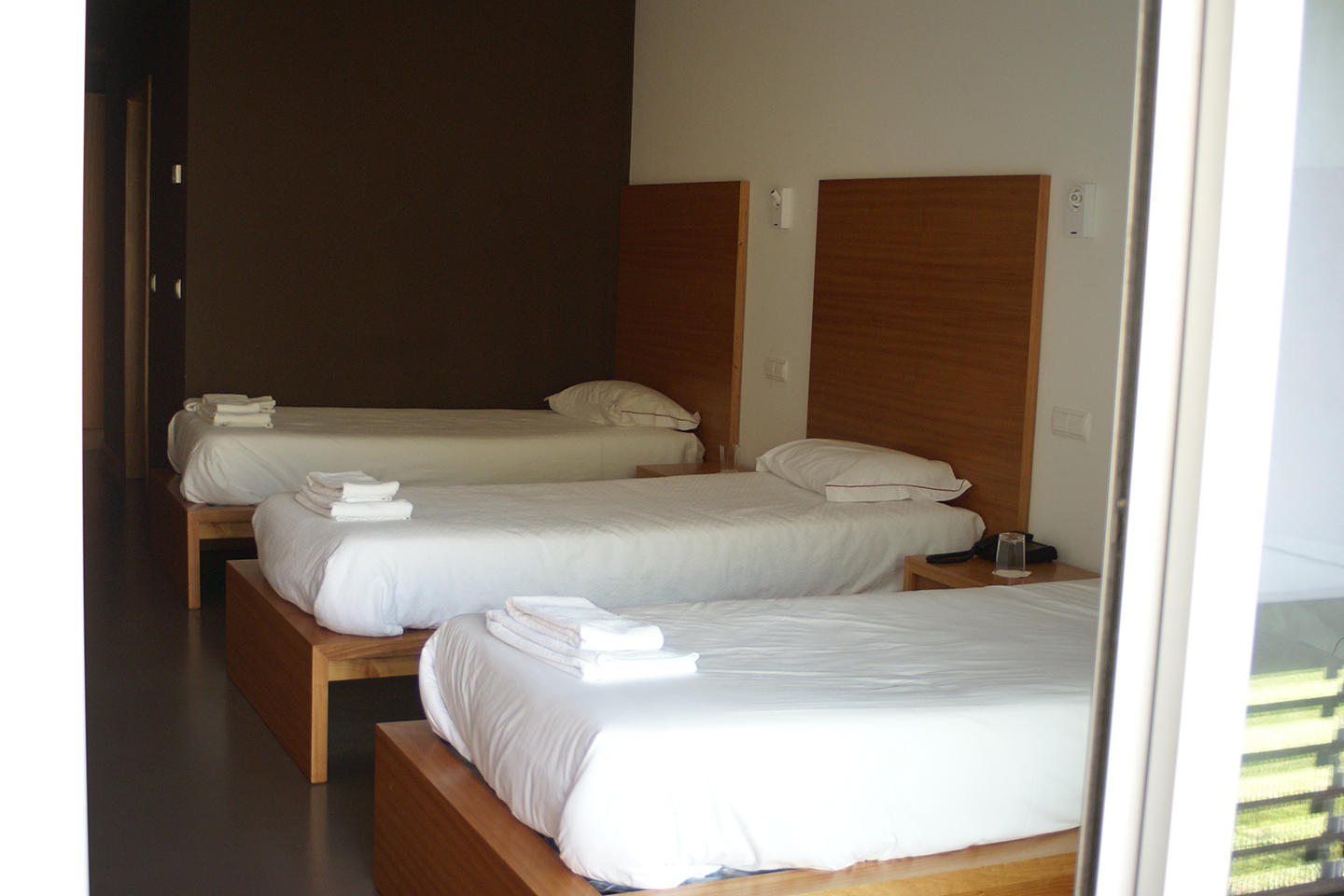 SPECIFICATIONS
The High Performance Sports Centre in Vila Nova de Gaia has three different buildings: the Pavilion for Table Tennis, the Pavilion for Taekwondo and a Reception Unit. The Reception Unit for athletes, teams and technical staff, intended for accommodation and catering, has three floors. It offers 76 beds to accommodate athletes and technical staff, distributed over 24 triple and four single rooms. The rooms are equipped to accommodate adaptive athletes.
There is also a 165m2 bar/dining area with kitchen and support areas, as well as a lounge room, which is complemented by an administrative and medical support area, including reception area, sanitary facilities, physiotherapy room, gym and four offices.
Both the building stairs and elevators take into account the needs of disabled athletes.
SPORTS DISCIPLINES AT THE HIGH PERFORMANCE SPORTS CENTRE IN VILA NOVA DE GAIA
The High Performance Sports Centre in Vila Nova de Gaia is fully prepared for table tennis and taekwondo.  
MAIN EVENTS AT THE HIGH PERFORMANCE SPORTS CENTRE IN VILA NOVA DE GAIA
Handball Tournament "HandeGaia"

Gaia Table Tennis Open
Gaia International Tournament – Handball
Dancesport International Championship,
International Games of the Portuguese National Team – Handball

Taekwondo European Junior Championship
ATHLETES & TEAMS WHO VISITED HIGH PERFORMANCE SPORTS CENTRE IN VILA NOVA DE GAIA
The top conditions available, make the High Performance Sports Centre in Vila Nova de Gaia the best choice to every high performance athlete, team and sponsor looking for the ideal high performance training conditions and, also, for great achievements and victories on table tennis and taekwondo.
Proof of that is the list of teams and athletes that already attended this HPSC.
TEAMS
Portuguese Taekwondo Federation,
Portuguese Table Tennis Federation,
Portuguese National Team – Handball,
Futebol Clube do Porto,
Russia National Handball Team,
Ukraine National Handball Team,
Angola National Handball Team,
Modicus,
Futebol Clube de Gaia,
Bolacesto,
CJ Almeida Garrett. The High Performance Sports Centre in Vila Nova de Gaia has its doors open for all high performance athletes and teams looking to make the most of their training. We offer the best conditions for high performance training on table tennis and taekwondo.
TOURIST ATTRACTIONS IN VILA NOVA DE GAIA
The city of Vila Nova de Gaia is located in the North of Portugal and is part of the District of Porto, on the south bank of the Douro River.
Gastronomic specialties are not limited to Porto wine. In the riverside zones, the lamprey and the allis shad are a reference. From the sea comes the sardine, a mandatory presence in the numerous popular festivals, grilled and accompanied by peppers, broa de milho (Portuguese corn bread) and olives.
Seafood, octopus rice, cod fish and the thousand ways of cooking cod fish are also very much appreciated.
The meat specialties are inseparable from the rural traditions of the region. They are characterised by the abundance of pork, cow, chicken, duck and goat kid meat, usually accompanied by a good amount of vegetables.
As for sweets, the Velhotes da Braguesa that is sweet rectangular bread is associated with the popular festival of Valadares. The sopa seca, usual dessert at the farmer's table, aletria, crème brûlée, filhoses, milk French toasts and Port wine French toasts are some of the traditional sweets of the region.
WHAT TO DO
The region is well-known for its Porto and Douro wine companies, automotive, glass and electronic components industry, as well as for its artists, musicians, painters, sculptors and architects, as well as for its tourist activities.
In the HPSC Vila Nova de Gaia area – Oliveira do Douro – there are many art works of Camilo Castelo Branco, Ramalho Ortigão, Júlio Dinis and Almeida Garrett, prominent Portuguese artists.
We highlight the following tourist attractions:
Mosteiro da Serra do Pilar;
Casa Barbot;
Coreto de Canelas;
Aqueduto dos Arcos do Sardão;
Mosteiro de Grijó (Monastery);
Convento Corpus Christi (Convent);
Capela do Senhor da Pedra (Chapel);
Casa Museu Teixeira Lopes;
Solar Condes de Resende.
V. N. de Gaia High Performance Sport Centre
Rua de Entre Quintas Oliveira do Douro
4430-300 Vila Nova de Gaia
Responsible: Mário Duarte
MONDAY TO FRIDAY
08:00 – 13:00
14:00 – 17:00