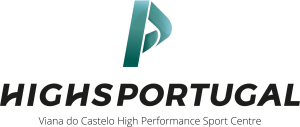 HIGH PERFORMANCE SPORTS CENTRE IN VIANA DO CASTELO
PRESENTING THE HIGH PERFORMANCE SPORTS CENTRE IN VIANA DO CASTELO
The High Performance Sports Centre in Viana de Castelo for Surf, inaugurated in 2013, was designed to be a sustainable construction and it is a part of the Portuguese High Performance Sports Centres Network/HIGHSPORTUGAL.
This sustainable construction is based on two main aspects: the materials used are eco-friendly and the building operates with lower energy consumption, using natural energies.
The implementation of the building, as well as the constructive solution itself, aim to respect the dunes through a system of pillars that make the building to stand out, allowing the normal dune rearrangement.
Located on Cabedelo beach, the High Performance Sports Centre in Viana do Castelo is just a few meters from the sea. Well equipped with materials and services to support the High Performance training of water sports, this HPSC Viana do Castelo is considered one of the best in Europe, given the typology of the waves in the region.
The most used material in the construction of the High Performance Sports Centre in Viana do Castelo is cork, a 100% natural, recyclable, non-toxic and durable material. Cork respects the good ecological practices, making this equipment not only a proper space for High Performance training, but also a building that respects the environment and is aware of the present needs to guarantee a sustainable future.
FACILITIES AND EQUIPMENTS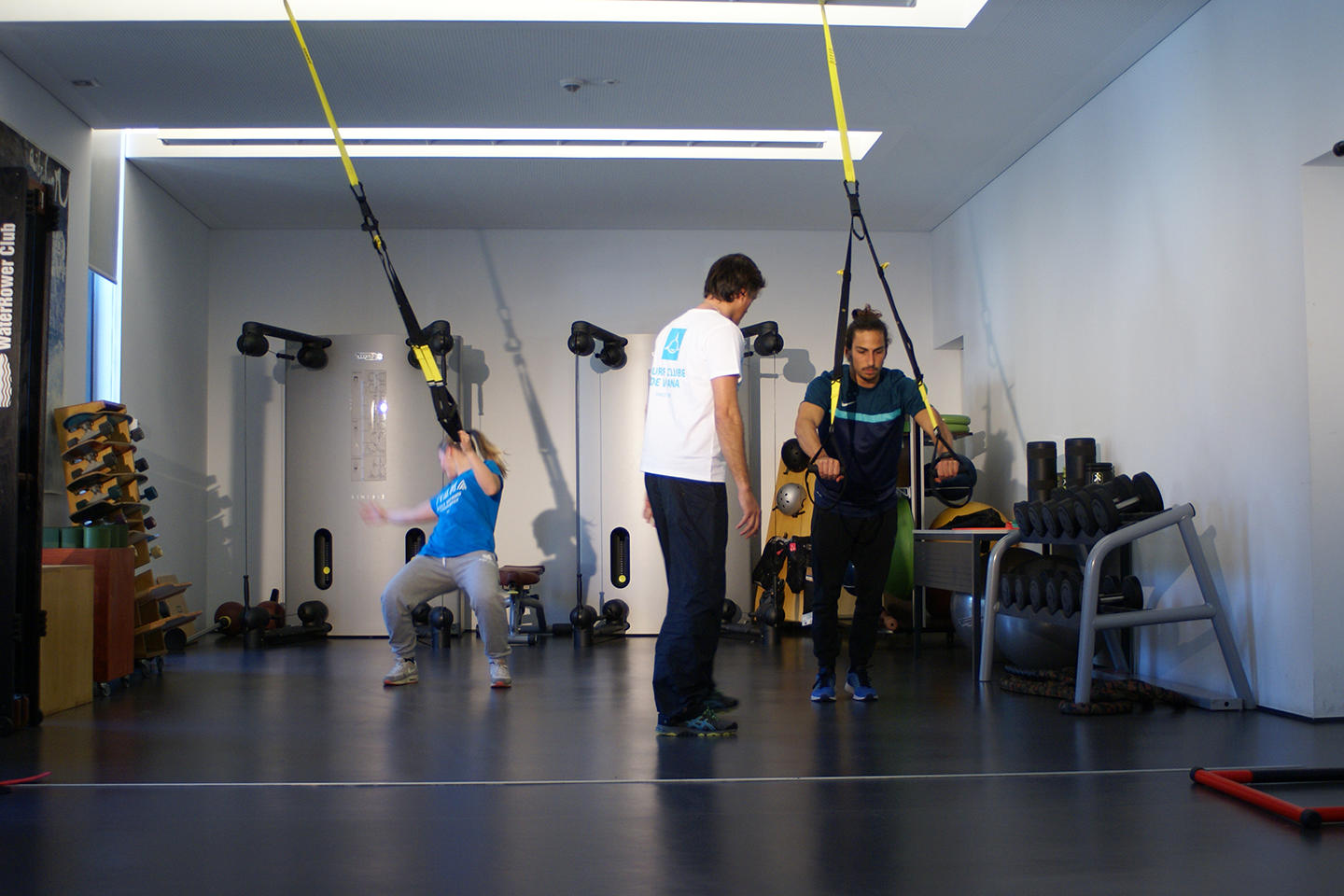 INDOOR TRAINING & TECHNICAL AREA
The indoor equipment of the HPSC Viana do Castelo are: training rooms with capacity for 50 people, 1 smart board, 2 data show, 1 computer, 1 laptop, 2 printers, 1 HD video camera, 1 HDMI cable, 1 camera, 1 GoPro; warm-up room and gym with 1 training ladder, 1 Octobalance, 1 LegMotion, 1PullUpMate, 1 Kit Triggger Point, 1 Rad Kit, 6 RuberBand, 1 combat rope, 1 Dumbbellset rack, 1 Adjustable bench, 1 Wobbleboard, 1 Rockerboard, 1 Arke Bundle, 2 Klnesis One, 2 TRX, 1 Rack Slackline, 2 Roller bone, 6 Skates, 6 protection equipment sets, 1 Water rower, photocells set, Chronopic Platform, 1 FMS, 2 polar V800 watches, 20 yoga mats; medical office with 1 measuring tape, 1 digital weight scale, 1 first-aid kit, 1 automated external defibrillator; massage room with an excite run med treadmill and 2 massage tables.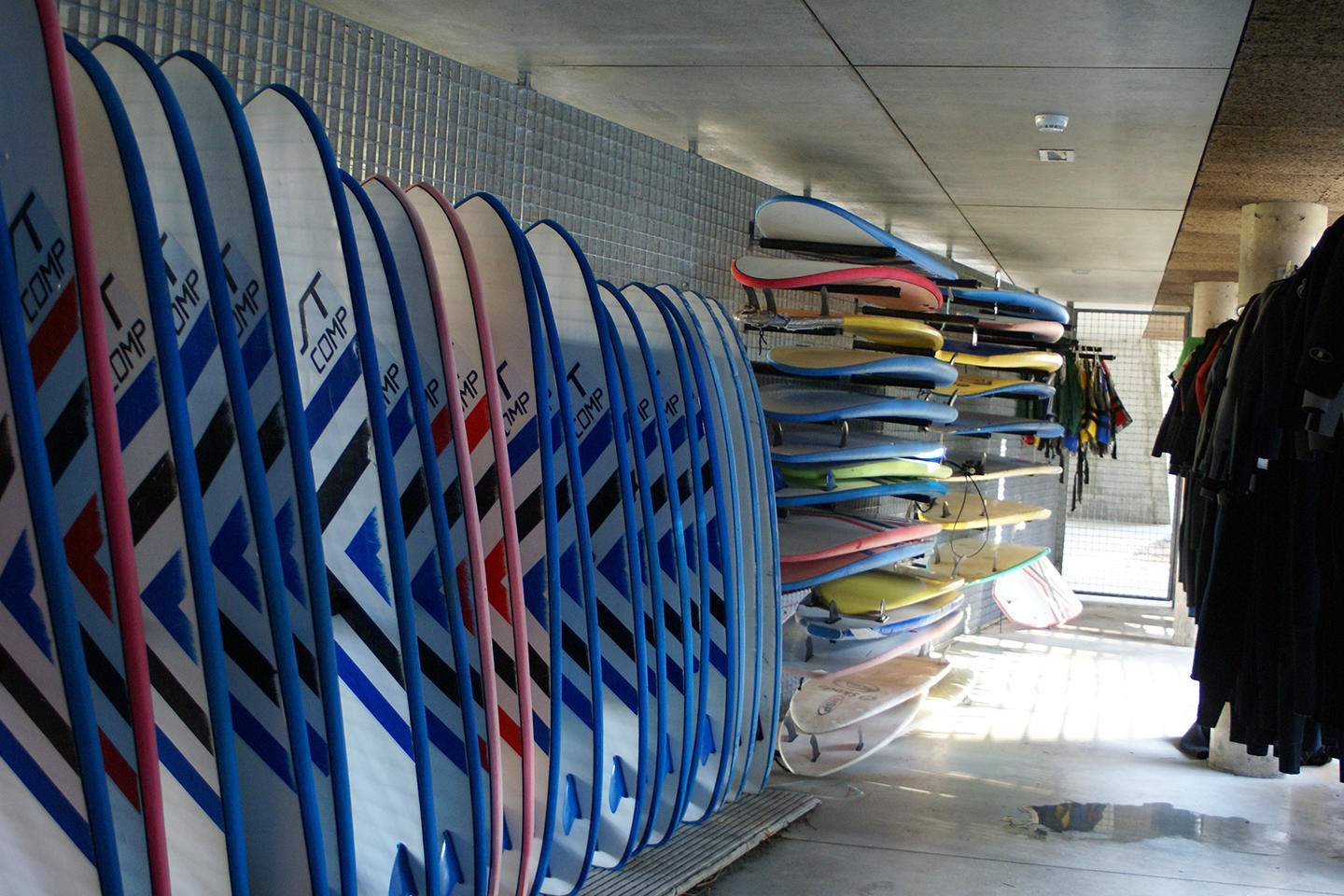 OUTDOOR TRAINING & TECHNICAL AREA
Regarding the outdoor equipment, the centre has: a synthetic turf training field with 2 football goals, 1 tennis and volleyball net and 1 skateboard ramp; technical equipment with 45 bodyboards, 60 surfboards, 130 suits, 120 lycra shirts, 40 leashes, 30 swimfins, 5 Polen boards, 1 tow-in board, 5 stand up paddle surfing boards and 5 oars.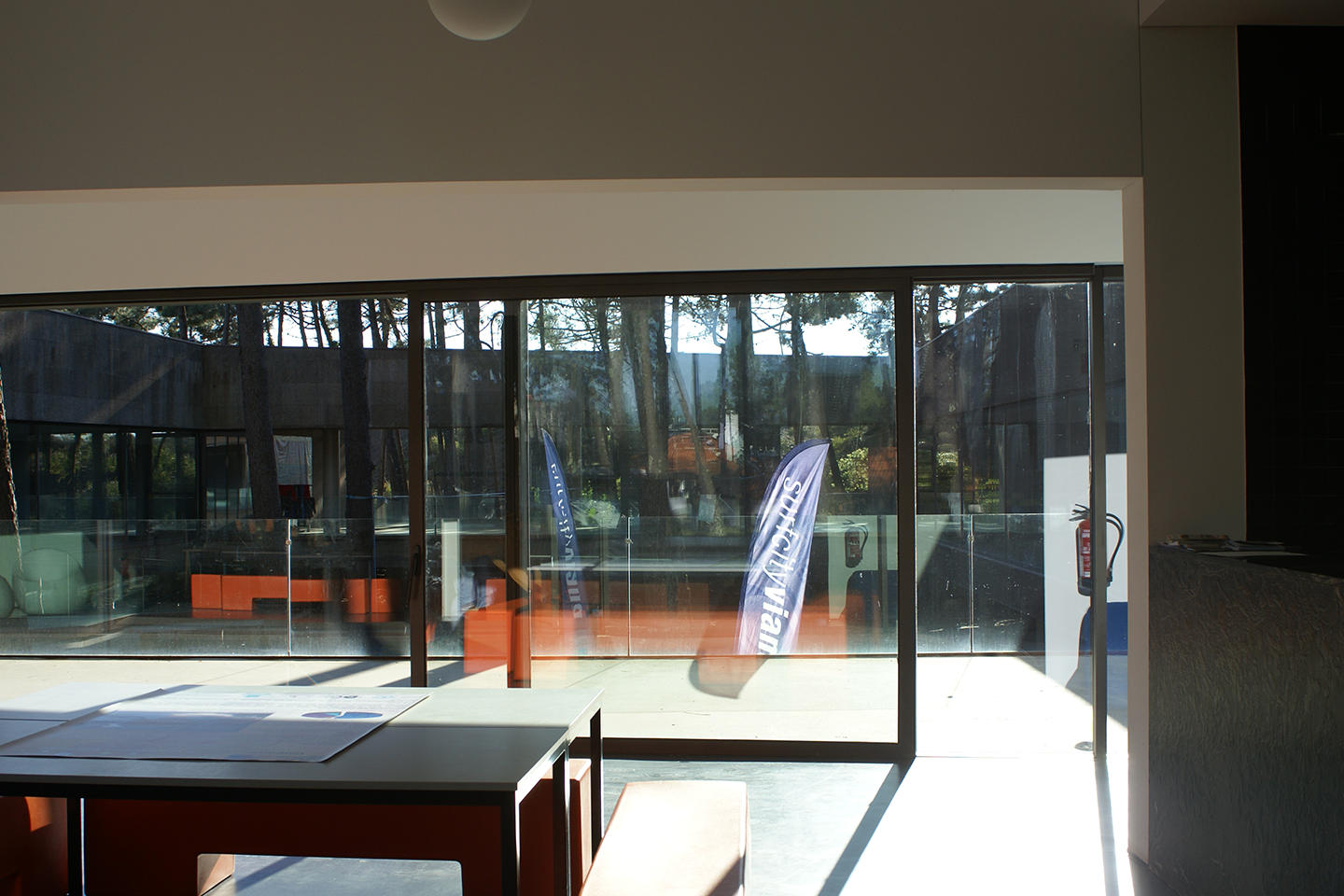 SUPPORT AREA
The High Performance Sports Centre in Viana do Castelo has 17 rooms (30 beds), training rooms, warm-up room, gym, medical office, massage room, recovery room, sauna, cafeteria, administrative areas, hangar and innovation room. The building is also equipped with a security system and video surveillance, as well as free Wi-Fi everywhere.
The HPSC Viana do Castelo is a High Performance training facility accessible to people with reduced mobility.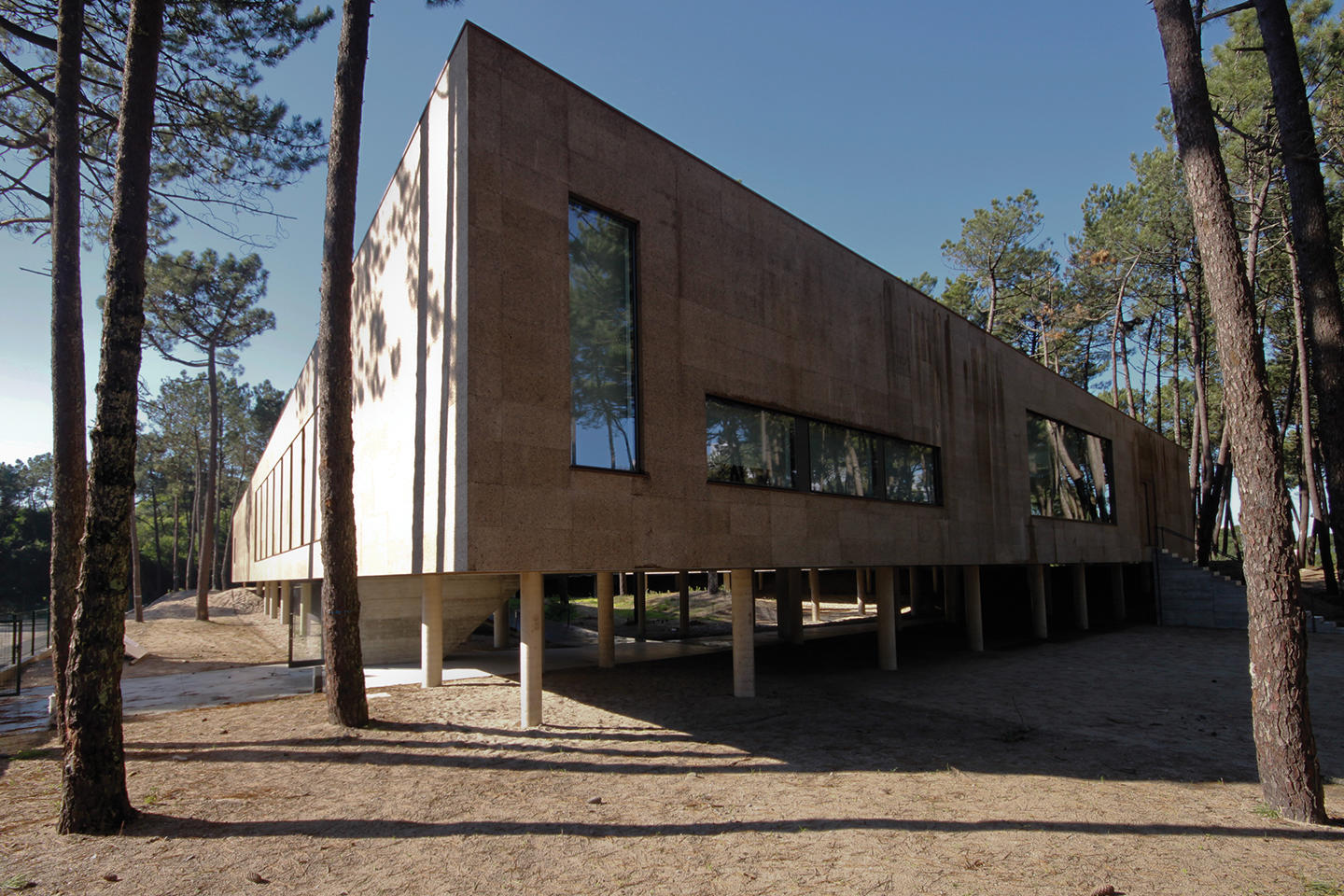 SPECIFICATIONS
In the north wing, you can count on six rooms with capacity for 4 athletes each, and a room for 6 athletes, as well as support facilities that include collective showers, locker room, sanitary cabins and sinks.
In the south wing there are two training rooms, a warm-up room, locker rooms, a medical office and a massage room. The hangar for storing boards and other material is to the west.
To the east you have the residential, technical, social and administrative areas that include reception, seating area, cafeteria / kitchen, three offices, meeting rooms and sanitary facilities.
SPORTS DISCIPLINES AT THE HIGH PERFORMANCE SPORTS CENTRE IN VIANA DO CASTELO
The High Performance Sports Centre in Viana do Castelo is fully prepared for Surf, Bodyboard and Longboard.
MAIN EVENTS AT THE HIGH PERFORMANCE SPORTS CENTRE IN VIANA DO CASTELO
Viana World Bodyboard Championship;
European Adaptive Surfing Camp;
Luso Galaico
European Week of Sport.

Viana World Bodyboard Championship;
European Week of Sport.

European Week of Sport.
Luso Galaico.

Atlantic Watersports Games, XIX edition
European Tour of Surfing
Luso Galaico

European Championship "Eurojunior"

World Bodyboard Championship "Viana Pro"

Bodyboard European Championship

World Bodyboard tour – inaugurall round

1st Official Surf and Bodyboard School in Portugal
1990 – 1991 – European Bodyboard Championship "Viana Pro"
ATHLETES & TEAMS WHO VISITED HIGH PERFORMANCE SPORTS CENTRE IN VIANA DO CASTELO
The top conditions available make the High Performance Sports Centre in Viana do Castelo the best choice to every high performance athlete, team and sponsor looking for the ideal high performance training conditions and, also, for great achievements and victories on surf, bodyboard and longboard.
Proof of that is the list of teams and athletes that already attended this HPSC.
ATHLETES
Eric Rebière (Brazil/France)
Pierre-Louis Costes (France)
Jared Houston (South Africa)
Mike Stewart (Hawaii, USA)
Iain Campbell
Chloé Calmon (Brazil)
Tiago "Saca" Pires
Garrett McNamara (Hawaii, EUA)
Île-de-France Athletics Team (France)
António Cardoso (PT)
Gautier Garanx (FR)
TEAMS
National Team – Juniors (United Kingdom)
Devon Surf Team (England)
Central Surf Eskola (Basque Country)
Croyde Surf Club (United Kingdom) The High Performance Sports Centre in Viana do Castelo has its doors open for all High Performance athletes and teams looking to make the most of their training. We offer the best conditions for High Performance training on Surf, Bodyboard and Longboard.
TOURIST ATTRACTIONS IN VIANA DO CASTELO
Viana do Castelo is the northernmost Atlantic city in Portugal and about 25 minutes from Porto International Airport.
With good highways and a seaport, the city has easy access and visitors can enjoy a great stay, thanks to its urban tranquillity and safety, the richness of its natural and historic heritage, as well as the existence of excellent cultural, social and sports facilities.
With amazing natural scenery, the city of Viana do Castelo is perfect for tourism, with lots of spaces dedicated to proper welcoming of those who visit Viana do Castelo and want to know its culture, art and traditions.
WHAT TO DO
Viana do Castelo also offers a wide variety of accommodation options: hotels with a rating of one to four stars, a Pousada de Portugal, Guest Houses, Hostels, Tourist Apartments and Youth Hostel.
We highlight the following tourist attractions:
Historic Centre of Viana do Castelo
Mount, Sanctuary, Cable car and Citânia of Santa Luzia
Igreja Matriz e Igreja da Santa Casa da Misericórdia (Churches)
Praça da Liberdade
Municipal Library (Siza Vieira)
Edifícios Multifuncionais (Fernando Távora)
Cultural Centre (Souto Moura).
Viana do Castelo Sea Centre
Sailing Centre
Rowing Centre
Canoeing Centre
Hospital ship Gil Eannes
Museum of Decorative Arts
Museu do Traje (Costume Museum)
Museu Fábrica da Louça Regional de Viana
Chocolate Museum
Urban Ecological Park and Centre for Environmental Monitoring and Interpretation
Rota dos Vinhos Verdes (Green Wine Routes)
Santiago Routes – Portuguese Coastal Way
WHAT TO DO
Contemporary architecture is present in Viana do Castelo with a collection of buildings designed by renowned architects, two of them awarded with the Pritzke Prize: Siza Vieira, who designed the Municipal Library and Eduardo Souto Moura, who designed the Cultural Center.
There are several Museums dispersed by the city of Viana do Castelo, as for example, Museu de Artes Decorativas, Museu do Traje, Casa dos Nichos – Núcleo Museológico de Arqueologia, Navio Hospital Gil Eannes, Núcleo Museológico da Igreja das Almas, Núcleo Museológico do Pão (Outeiro).

To see the programs you guys already have set in motion is very inspiring, i think all of Portugal should follow what Viana is doing with their CAR Surf Center and with their nautical programs.

Estivemos aqui em estágio com a equipa nacional de Stand Up Paddle, encontramos um local ótimo para a prática da nossa modalidade, e umas instalações "state of the art". O estágio aqui trouxe boa sorte à nossa seleção, acabamos por ganhar a medalha de bronze, no primeiro europeu da modalidade.
Viana do Castelo High Performance Sport Centre
Rua Diogo Álvares Praia do Cabedelo
4935-161 Viana do Castelo
Responsible: João Zamith
MONDAY TO FRIDAY
08:00 – 13:00
14:00 – 17:00